PROGRAMS
GeoQuest
GeoQuest is an interactive project designed for students in middle and high school, but all grades are welcome to participate. GeoQuest fulfills geography, social studies, and foreign language standards. It can be used to teach mapping skills, news writing, current events, cultural awareness, civic engagement, foreign language and more! This year we have added GeoQuest Foreign Language Edition and the GeoQuest Cultural Exchange Edition!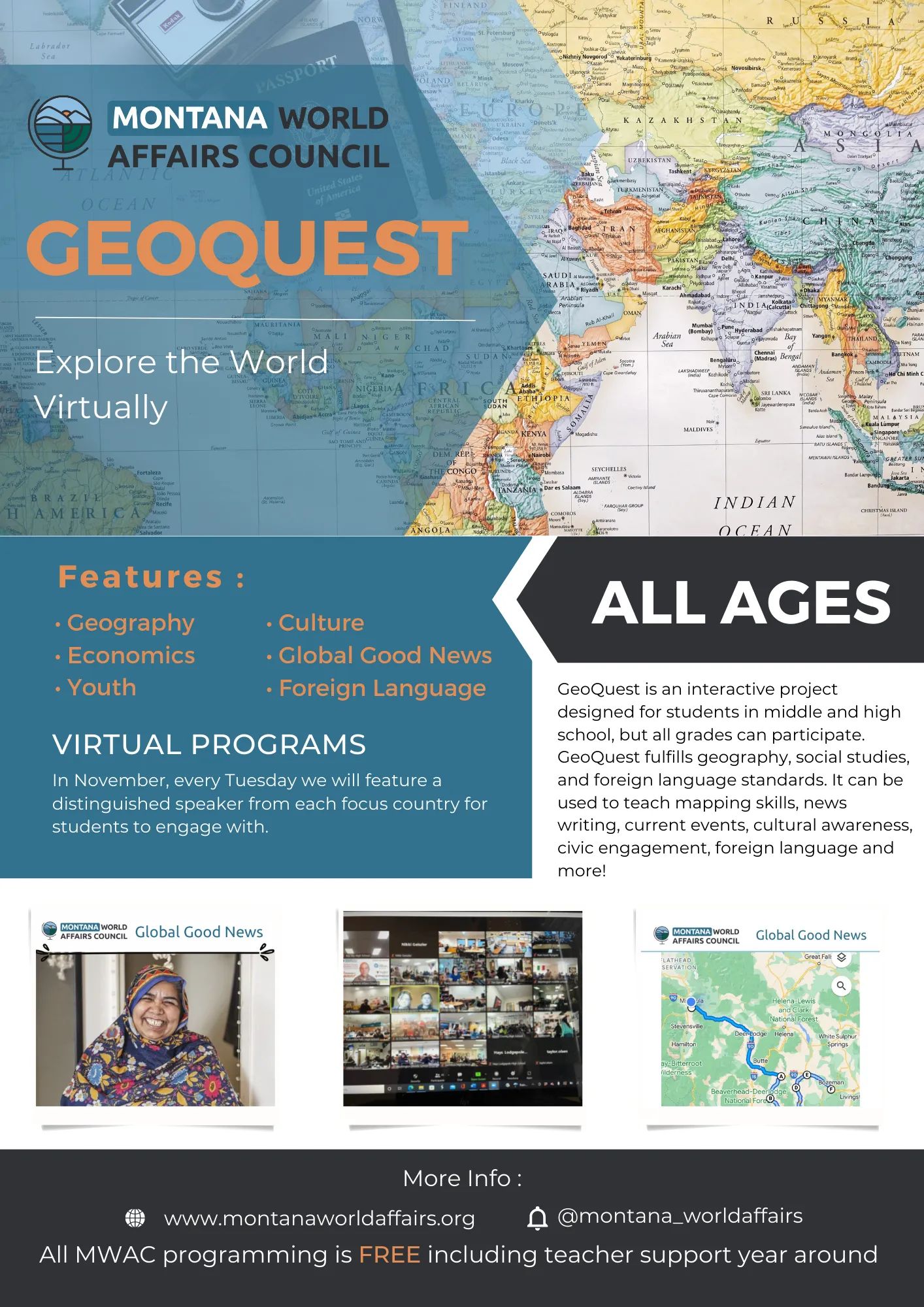 How does it work?
This year we are offering three unique ways to engage with GeoQuest!
GeoQuest
GeoQuest Foreign Language Edition
GeoQuest Cultural Exchange Edition
All three editions follow the same basic format. Find the edition for your class!
GeoQuest
GeoQuest is a mix and match learning experience. Each year, Montana World Affairs Council adds additional country 'Bytes' to the mix. Each country 'Byte' follows the same format. Students explore:
Geography
Economics
Culture
Youth
Global Good News
After exploring different country 'Bytes' students can participate in GeoQuest. GeoQuest- is different from the country 'Bytes.'. The focus is on students learning about good news in other countries and then looking at their own communities for good news stories. GeoQuest is a process of researching and writing a news summary to be used on social media--a timely skill. Students' social media posts are turned into the Montana World Affairs Council for their Global Good Newsfeed.
Both the GeoBytes and GeoQuest can be used together or as stand-alone projects depending on the curricular needs of the teacher. Mix and Match the different bytes based on the interest, level, and need of your students.
GeoQuest Foreign Language Edition
We have shortened the GeoQuest platform to make this a great tool for students learning a second language. Our friends at the World Language Initiative generously donated their time to translate the platform into French, Spanish, Japanese, and Arabic. While the steps and directives are in these languages, most of the resources are in English. There is enough to challenge a new language learner but not overwhelm them!
GeoQuest Cultural Exchange Edition
Connect with a school in Kumamoto, Japan.
In 1985 Montana and Kumamoto established a sister-state relationship. Through the Montana World Affairs Council, classrooms can participate in GeoQuest: JapanBytes the Sister-State Edition to learn, connect, and build relations with students in Kumamoto.
Students will work through the GeoQuest JapanBytes, learning about Japanese culture, geography, economics, youth, and global good news. Students in Japan will be learning about Montana through GeoQuest MontanaBytes. In addition, the Montana World Affairs Council has set up a series of prompts on Flip.com. Students in both Japan and Montana will be asked to respond to the prompts, ask questions, and reply to other students.
After registering, you will find Instructions for joining the Flip Board in the Mentor Library.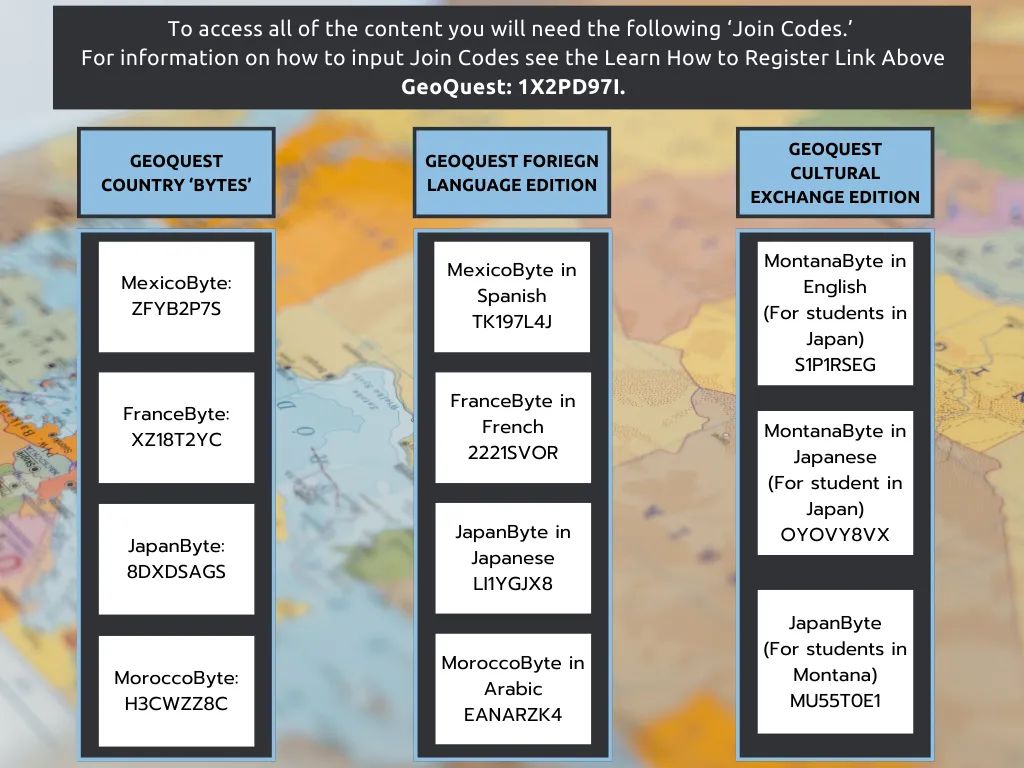 How to Participate in Montana World Affairs Council GeoQuest
Q. My schedule is varied this year. Some of my students are in-person and others are remote—does this matter?
A. GeoQuest is designed for flexibility. You can start and stop this project at any point in the school year with as many students or groups of students as you need to. Since the information students need to complete their project is online, you can use this with face-to-face instruction, remote learners or a hybrid model. Instructionally, GeoQuest can be used as a whole class project, group work or an independent study project. Also, all of the resources for you AND your students are contained on the virtual platform.
Q. What does it cost to participate?
A. Nothing! Montana World Affairs Council programs are FREE to Montana schools. Thank you to all of our generous sponsors that makes this possible.
Q. What is the age range?
A. GeoQuest is designed for middle and high school students. However, feel free to use and scaffold this program to fit your classroom needs. We have had students as young as 2nd grade participate in the program!
Q. What are the learning outcomes of GeoQuest and does it fit into the standards?
A. GeoQuest is designed to fit state and national standards. The idea is to help YOU hit multiple standards in multiple content areas! Students participating in GeoQuest will:
Learn map reading and navigation skills using Google Earth
Investigate other countries' history, culture, language and current events. After researching students are challenged to make connections to their Montana communities.
Explore civic engagement while learning about the United Nations Sustainable Development Goals.
Q. Can we meet country experts?
A. Yes! Virtual visits will be scheduled with experts from each of the four countries. Your class can join the live discussion even if you haven't started GeoQuest and the conversations will be recorded for later use too. For questions or additional information, please contact Nikki Geiszler at: ngeiszler@montanaworldaffairs.org.