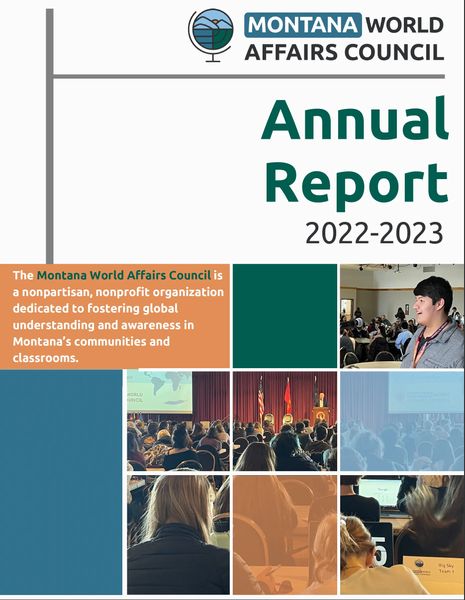 Annual Report
Download the Report 〉
Montana world affairs council
Upcoming Events
Our Story
The Montana Council was established in the year 2000, by Ambassador Mark Johnson, (retired), a fourth-generation Montanan from Great Falls, with a simple goal — to provide fellow Montanans with greater opportunities for understanding global affairs and the world around us. He hoped that through exposure to global programming and international experts, all Montanans would gain greater insight into how the world impacts each of us, regardless of where we live or what we do and that each of us can have an impact and effect change locally and also on a global scale. Ambassador Johnson wanted to bring the world to Montana and Montana to the world.
MONTANA WORLD AFFAIRS COUNCIL
Become a Member
We invite you to become part of a community of globally-minded individuals who have a shared interest in the world and how it connects back to our communities across Montana.
Our Sponsors
The work we do at the Council could not be done without the generous support of our corporate sponsors and the foundations that believe in us. These valuable partnerships continue to help us provide high quality international programming to our Montana students and communities, and for that we are grateful.


Our Mission
The Montana World Affairs Council is a nonpartisan, nonprofit organization dedicated to fostering global understanding and awareness in Montana's communities and classrooms.
"Interning with MWAC has been fundamental to my career in public education. I arrived at MWAC in the winter of 2010 and forged transformative relationships with Council staff, board members, and communities' stakeholders. These relationships confirmed my strong belief in the positive impact of public education. Ultimately, a connection made through MWAC landed me in France teaching high school economics. A year later, I was back in Missoula at UM working towards a master's degree in Education. I continue to rely on MWAC resources in my classroom at Glacier High School with the aim of bringing the world to the Flathead Valley. I am a strong believer in the mission of MWAC!"

Clark Begger, Teacher from Glacier High School
"MWAC has had a major impact on my life. There are so many things that I have learned and have become interested in. Not only has it shaped and sharpened my education but I have seen the impact it has on others. Allowing students to feel as though they have a voice and an opportunity to not only change their future but to also change the world."

Shyane Williams, Student from Columbia Falls High School
"Though the Academic World Quest is definitely the highlight of the year, so much more occurs, throughout the school year. Because of the hard work put in by the folks who make this all possible, we have had numerous fascinating guest speakers come to our school. From diplomats, to State Department employees to the Mayor of Helena, we have been so fortunate to benefit from Montana World Affairs and what they are able to offer."

Ryan Cooney, Teacher from PAL
"The CITC program allows my students to listen and discuss current issues with internationally renowned diplomats, professors, and professionals. Montana World Affairs Council is able to provide valuable programming both in person and remotely. Their ability to use technology in creative ways allows students in rural Montana and students impacted by COVID-19 to participate in programs despite their geographical location or school schedule."

Amy Wallner-Drake, Teacher from Bozeman High School